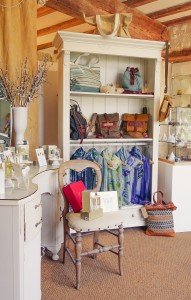 The boutique is full of beautiful things for yourself or for your home!   Decorative items, beautiful pots and crockery, household linens sit side by side with gorgeous perfumes from Floris, designer scarves from A M de Paris, handbags and our wonderful collection of vintage jewellery, everything carefully selected for its' quality and affordability!
La boutique est plein de belles choses pour vous faire plaisir!  Des belles écharpes, des bijoux, des sacs et des parfums sublimes de Floris of London sont installés côte à côte de belle vaisselle, de linge de maison et des objets décoratifs pour habillé votre maison.  Toute est sélectionné pour sa qualité exceptionnelle et ses prix toujours raisonnables! 
Subscribe to our mailing list and receive all the latest news hot off the presses!
Inscrivez-vous sur notre listing et recevoir toutes les actualités au plus vite!